Provided by Kuffel, Collimore & Company
Kuffel, Collimore & Co.

In partnership with Realy Insurance & Associates, LLC
3701 W Algonquin Rd #570
Rolling Meadows, IL 60008

Phone: 630-806-8032
Fax: 630-723-0882
Toll Free: (877) 335-1234

Email: Click to Email
Wellabroad.com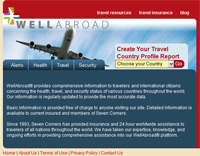 WellAbroad® provides comprehensive information to travelers and international citizens concerning the health, travel, and security status of various countries throughout the world. Our information is regularly updated to provide the most accurate data.

Basic information is provided free of charge to anyone visiting our site. Detailed information is available to current insured and members of Seven Corners.

Since 1993, Seven Corners has provided insurance and 24 hour worldwide assistance to travelers of all nations throughout the world. We have taken our expertise, knowledge, and ongoing efforts in providing comprehensive assistance into our WellAbroad® platform.
Welcome to Missionary Insurance
Plan Features: Easy Access, Immediate coverage, Identification card for each participant
Choice of coverage:
$10,000 Medical Maximum: $2.21 per person/per day


$50,000 Medical Maximum*: $4.43 per person/per day


$100,000 Medical Maximum: $5.05 per person/per day
Deductible:
Inside the United States and Canada: $100
Outside the United States and Canada: $500
Benefits included in this policy (in addition to the Medical Maximum)
Emergency Medical Evacuation/Repatriation: $100,000
Return of Mortal Remains: $20,000
Emergency Reunion: $10,000
Interruption of Trip: $5,000
If you are unable to continue your trip due to the death of an immediate family member or serious damage to your home; the plan will reimburse less the value of your ticket
Accidental Death & Dismemberment (AD&D):
$10,000 Principal Sum for Insured or Insured Spouse
$2,500 for Dependent Child.
Dental (Emergency):
$100 (or $500 for accidents) Only available to programs purchased for 1 month or more.
Treatment necessary to restore/replace sound natural teeth lost or damaged in an Accident covered under this program
*($15,000 limit for persons age 80+)
Additional Coverage Included:
Loss of Checked Luggage
Local Ambulance Expense
Return of Minor Children
Repatriation
Waiver of Pre-Existing Conditions for U.S. citizens traveling outside the United States and Canada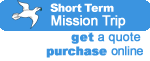 View and Print the Short Term Mission Trip Program Summary...


View and Print the Short Term Mission Trip Flyer...